Augustus Suglia, A.I.A.

382 Church Avenue
Cedarhurst, L. I., N. Y. 11516
516-569-4241 or
e-mail us

BUILD A CABOOSE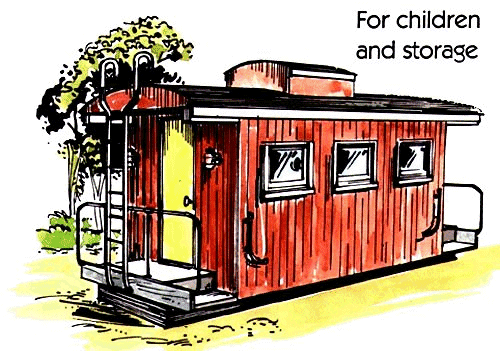 Home Improvement 5018-Don't hitch up this colorful caboose, build it in your yard and use one of its rooms for storage, the other for a playhouse or poolside dressing room. Built on a concrete block foundation, it has doors at either end, windows on both sidewalls. Waterproof canvas is stretched over the curved wood roof to form a finish. Vertical grooved siding can be painted in bright colors or stained, as you prefer; caboose is 6'- 3" wide by 14'- 8" long by 8'- 7" high, including platforms at either end.
---
ALL ABOARD FOR FUN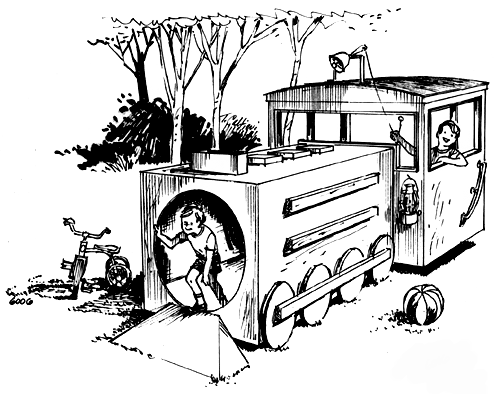 Home Improvement 6006-Make your yard the talk of the town by building this playtime locomotive. In the cab, there are built-in benches and entrance to a tunnel that leads out front. Construction is wood on concrete block foundation. The locomotive is 12 feet long; 4 feet wide at front, 6 feet wide for rear cab; height is 6 feet, 4 inches. Paint the play train bright colors and your youngsters will love it.
---
A-FRAME STORAGE SHED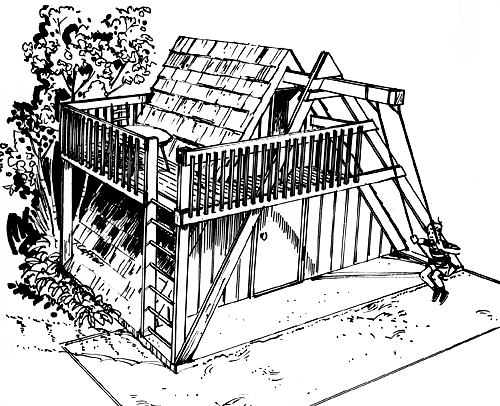 Home Improvement 5012-This A-frame shed serves for more than storage. Its upper deck, which is reached via ladder, is an open play area for children. A swing, at front, hangs from a projected beam over a sandbox that's nicely placed to cushion falls. The shed itself provides storage space for garden tools and equipment, bicycles, etc. Shed is 16 feet wide, 8 feet, 2 inches deep; 14 feet, 6 inches high from ground to ridge. Vertical grooved plywood is used at sides; wood shingles cover roof.
---
A-FRAME PLAYHOUSE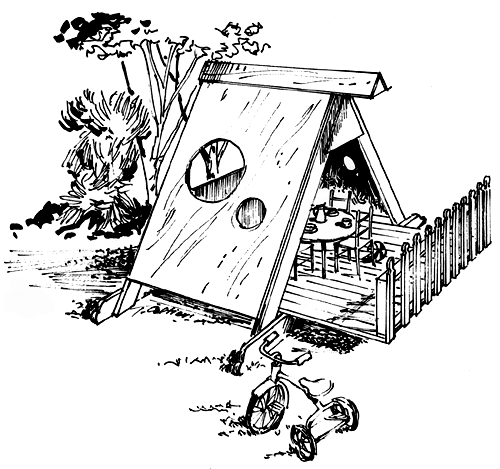 Home Improvement 3677-Instead of pitching a tent; the kids will enjoy having their own A-frame playhouse. It's easy to build with 4' by 8' plywood used for each side of roof. Wood deck projects forward to form a front porch. Fence is a nice finishing touch. Ideal for summer sleep-outs, playhouse is 7 feet wide by 8 feet high with a 6 foot, 3 inch deep deck.

For questions, suggestions, or comments please contact the webmaster

Copyright ŠAugustus Suglia 1997-2003