Augustus Suglia, A.I.A.
382 Church Avenue
Cedarhurst, L. I., N. Y. 11516
516-569-4241 or
e-mail us

Ranch Houses

House Plan # 2114 Square Footage- 1,857 1st Floor (on cellar), 276 (on slab)
Total 2,133 square footage

House Plan # 2114 - This attractive Spanish-style ranch home is well organized to suit family living needs.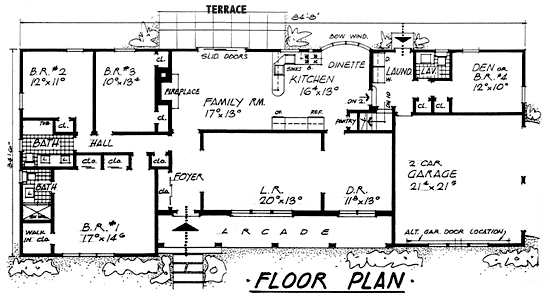 CLICK ON FLOOR PLAN ABOVE FOR LARGER AND CLEARER VIEW
House Design # 2114 has a formal area, which includes a spacious living room and adjoining dining area located at the front of the house. The areas where the family will spend the most time are placed at the back, away from street noises. A good-sized family room with a handsome fireplace has access to the terrace and opens on the efficient and airy kitchen, with its cheerful dinette. A laundry room is close by, with access to the yard and to a lavatory and a study that could double as guest or maid's room. Garage entrance is nearby. The overall dimensions are 84 feet, 8 inches by 34 feet, 6 inches. There is a full basement.
For questions, suggestions, or comments please contact the webmaster

Copyright ŠAugustus Suglia 1997-2010