Augustus Suglia, A.I.A.
382 Church Avenue
Cedarhurst, L. I., N. Y. 11516
516-569-4241 or
e-mail us

Ranch Houses

House Plan # 5182 Total square footage- 1,661 1st Floor

House Plan # 5182 -The garage may be added at a later date, but even so the design is most handsome. A circlehead window over the triple mullion window adds a dramatic touch.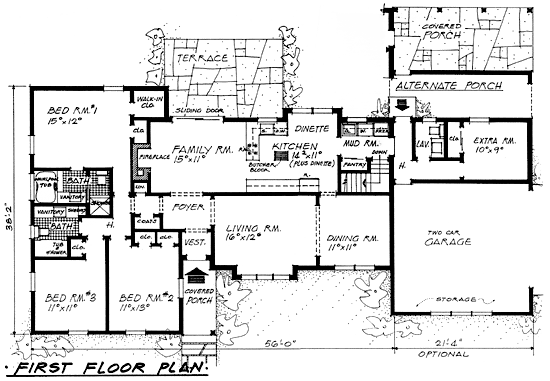 CLICK ON FLOOR PLAN ABOVE FOR LARGER AND CLEARER VIEW
House Design # 5182 has a living room, dining room, family room, kitchen, three bedrooms, two baths, a foyer and a vestibule, totaling 1,661 square feet of habitable space. There is a mudroom with space for a pantry, washer, dryer and freezer. The basic house is 38 feet, 2 inches by 56 feet. There are plans for a two-car garage to be added to this wing of the house. Included in the plans is a lavatory, closet and extra room. The addition (203 square feet) may be built on a slab for economy but the basic house includes a basement. Sliding glass doors lead from the family room to a rear terrace. The kitchen includes a dinette.
For questions, suggestions, or comments please contact the webmaster

Copyright ŠAugustus Suglia 1997-2003