Augustus Suglia, A.I.A.
382 Church Avenue
Cedarhurst, L. I., N. Y. 11516
516-569-4241
or e-mail us
New Garage Plan #5233

Garage Plan # 5233 Square Footage- 1,000 1st Floor, 1,000 2nd Floor. Total 2,000 sq.ft.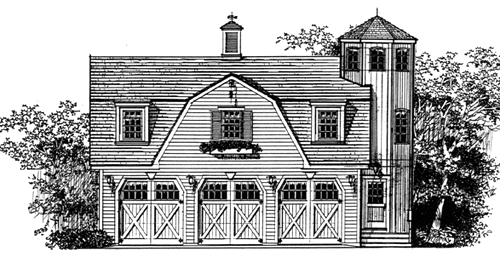 Garage Plan #5233 - Two story Colonial Carriage house residence with a three-car garage on the first floor.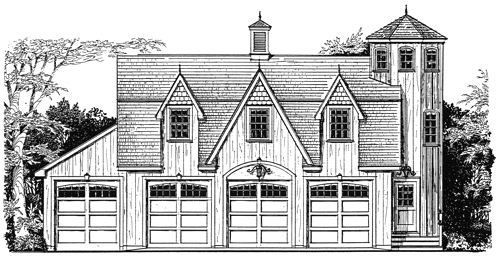 Garage Plan #5233a - This alternate elevation is included as part of the 5233 Garage
plan package. The fourth garage can be built with an open sun deck with access doors leading from the bedrooms in place of the windows.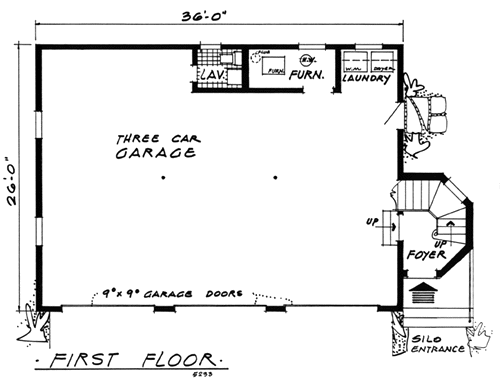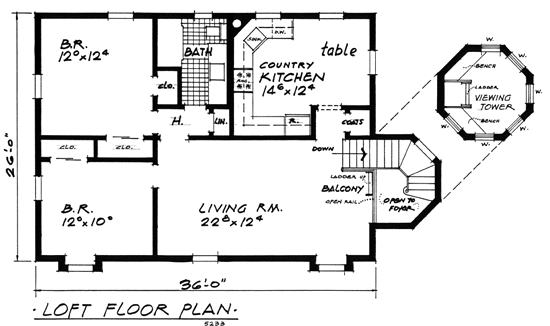 Garage Design # 5233 offers multiple possibilities: a vacation house, a retirement house, an expandable house using the first floor as an additional apartment for renting purposes, or a starter house built in the rear of the property and later rented for income after the main house is built.

The silo entrance houses the dramatic stair that leads up to the loft apartment. In the living room is an open rail balcony that offers a view of the stairs and the foyer. Also located in the silo is an open ladder that leads to a top-viewing tower with windows giving the homeowner a surrounding view of all areas. The loft floor has two bedrooms, a full eat-in country kitchen with large table area, living room and a full bath. At the rear of the garage are a laundry, one-half bath, furnace room and a storage area.

The ceiling height of the garage is 10'-4" which will accommodate today's SUV automobiles and camper vehicles and the garage doors are 9'-0" x 9'-0". The overall dimensions of the garage level are 43'-0" by 26'-0". The overall dimensions of the loft level are 43'-0" by 26'-0". Height is 31'-6" to silo ridge. Square footage is 1,000 on the garage level and 1,000 on the loft level for a total of 2,000 square feet. There is no cellar.

---
For questions, suggestions, or comments please contact the webmaster

Copyright ŠAugustus Suglia 1997-2008